Name
: Shivani lygari
Nickname
: Shi, Shiva, Doll
True name
: universal [BLANK]


True Name's Written on her: Deathless Located on her left arm:

Nightmare{Located behind right ear;

Chaos between shoulder blades, Bloodlust on right collar bone, Infinity on left ear shell/

Spoiler:
Partner[s]
: Natara Adnineo [ex-sacrifice]; Kyros Iygarii/Yuri Knatsu [Current binder]
Age
: 27
Birthday
: May 5th
Ethnicity
: German
Spoken Language:
German, French, Italian, Japanese, English
Occupation
: Bloodhound Captain, Kyros' Bodyguard/Body double
Build:
Slender with slight curves, small chest with little to no really noticeable muscle tone
Eyes:
Hazel [naturally] appearance Hazil with Amethyst tint
Hair:
Light golden blonde
Ears & tail:
n/a
Once, a long time ago, Shivani would have been called a 'lovely child'. She was well manner, quiet, and kept to herself.
But that was a lifetime ago.
Broken of her mind, Shivani is the very thing she is called by many; a Doll. Empty, a body void of the simple thing human's are know for the emotions they hold. Without instruction, she use to be nothing more than a limp child's toy. But with a individual who knows how to structure and order the ever obedient Doll she can show as many faces to the world as anyone else:
She could be come the girl next door with just the right orders and act. Shivani has developed many 'personalities' in which are use to do her work as a Bloodhound and also to interact with others. And even though in some ways she has been freed from the spell that bound her mind in such a permit state. Shivani remains much in the same manner, just needing less instruction at times to act like any normal person.
She is a Doll that can appear just like everyone else.
But beneath it all, the empty vessel, lies something in the darkness of her mind kept lock up tight by her controller. The madness that became what was left of a once sweet little girl. That craves vigence in the most horrific manner possible to those she believes are responsible for the unjust act that broke her of her first sacrifice.
Which in turn lock her away for so long to watch behind her eyes unable to control herself.
Mind not the thorns on the pretty little flower, but the deathly spiders that nesal within its petals.
Who am I?:
The Doll, the child's toy:
Strung up on strings and pretty things:
But even pretty things have thorns:
Who am I?:
I am the monster:
Trapped in a guilded cage:
Biding my time in chains
Blood Type:
O+
Weight/Body Structure/Physical Faults
: Shivani was born with
Dextrpcardia
, and
congenital analgesia
Parents/Elders/Guardians:
Deceased
Siblings
: Kyros lygari / Yuri Knatsu [abopted]
Dreams/Life Goals
: Revenge in its most horrific of ways
Hobbies:
Sitting staring out at nothing for several hours
Likes:
Quiet places, Cats, sweets
Loves
:The feel  of rain, Spiders, wild storms
Dislikes:
birds, bad smells
Loathes:
Technology
Fears:
Herself
Bad Habits:
Making trigger traps in different places in order to catch units, without telling others [such as her co worker Bloodhounds] where they are located and the triggers for them. Eating the spider's she uses for spell casting and following orders to an utmost T without thinking outside of a box just to get on her Controller's nerves. Even if that happens to result in some unfortunate death on some other parties fault.
Turn Ons
:N/A
Turn Offs:
N/A
Other
:
-If there is only one thing Shivani has had with her to call her own, is a little black stray cat that has been with her since her incarceration in Seven Moons that she calls Yanio.
-Shivani also three tarantula spiders that roam around the condo apartment she now shares with Yuri/Kyros: Tikaz, Solra,Vel. But they serve as a function for the fail safe trap set in their home.
Regarding Shivani's battle style
:
-Her early up bring and nerve disorder has a heavy influence over Shivani's attack style, which can only be called something along the lines of Voodoo. She is an expert in delayed attacks that take time and building to make, but an every extremely affected. If Shivani gets a hold of something that belongs to her opponent she will use it as a connection point to case direct spells.Shivani is an offensive fighter only, she sees very little need to defend herself or her sacrifice unless the move will cause an instant end to the battle. She has come to believe a sacrifice's job is to bare the pain, so there is no need to deny them of their responsibility.
Example
: If she has a strain of Hair of her opponent, she cast a spell to make herself like a 'voodoo doll' with said strain, and case physical pain to herself. However, even though she bares the physical damage, she doesn't feel the pain her opponent would.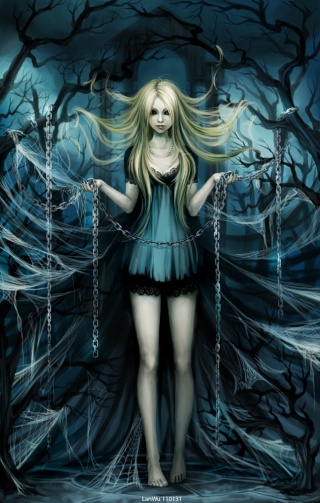 - While Germany, She was known as a 'Web Master' for her heavy usage of spider like attacks, and trapping her opponents in spider webs.