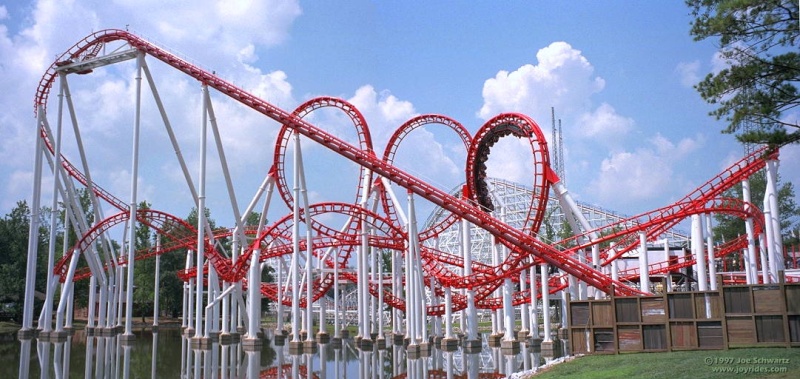 One of the coasters called: Viper's Revenge.
It is late in the afternoon and there is no breeze today. The lights of the area were coming on and the smells of food were filling the one eyes' nose. He looked around with his golden eye from high in the tree near the coaster. His favorite spot to be until dusk that is. A mysterious fog covers the park after 2am and it makes Masamune very uneasy and yet he has never found out why. So during the night he wandered in the city disarming mechanisms and living life along the dangerous road. Pulling the pipe from his chapped lips he exhaled a stream of smoke from his nose. Looking over the area and the people that walked past his tree he smirked. "Children.....nothing but pawns in the game of this blasphemy called Units." His eye trailed after some teenagers enjoying the remainder of their day before returning home to work on their homework and such. "Such delicious snacks for me to savor and then kill later." he licked his lips and smiled.
A sound and vibration wave came his way and that smirk just got wider. "Another Fighter battle. Hmm worth seeing or just felling it out?" He debated as he sat in the tree watching. He was waiting as he stretched and decided to stay there and continue to smoke. He is buried deep in the tee so no one can see him now the smoke coming from the tree. Smirking he continued to pick out his prey and feel for the battle as it started. He may have a strong prey to follow later on in the night before that fog was to set in.
__________________________________________________________________________________________________
Once his area became clear Masa came out of his tree with ease and still smoking his pipe that he just refilled. He adjusted his kimono a bit and went for a walk not sure where he wanted to go just yet but a walk around this place was fine for him. He tuned into the fighting and payed attention to the rings that were vibrating below them. Underground fighting rings were the best. Spell battles away from prying eyes and the top teams get to set the rules. Singles battles are held too but the units verses the Singles were the most intriguing. Fixing the patch over his eye he stared down at on of the new construction sites. "A new coaster perhaps?" He paused as he felt a ring go silent. "Forfeit by exhaustion." he chuckled to himself as he walked on. Finally getting bored he decided to head to a treehouse and changed into a graphic tee and some destroyed jeans. "Time to hunt." He said as he grabbed a wooden sword and went down the tree and out the park.
( Masa has left his
Playground
and went to the
Restaurants
:
Cafe Susse Festlichkeit
)